Chronicles of a Biker
'Chronicles of a Biker' is a compilation of anecdotes which I wrote during my 12 years of riding (and racing) motor-cycles between 1975 and 1987. Now, in 2012, (some 36 years after writing my first memoirs of a misspent youth), I have encapsulated dozens of these truly memorable and remarkable -and in some cases unbelievable stories into one book. In the first few chapters, read how I survive an onslaught of terrifying crashes, each one leaving me with several broken bones -or huge chunks of flesh hanging from my battered body, as I live-on to fight another day. Also included are the tales of my unlawful misdemeanours, as I am continually chased –and caught by the police, culminating in several endorsements, along with the loss of my driving licence on no fewer than two occasions!

The second-half of the book is dedicated to three amazing journeys which I undertook between July 1981 and August 1983. Spanning a distance of nearly 15,000km on the road (and a further 2,000 nautical miles on ferries), I managed to traverse 13 countries, 1 principality and several islands in Western Europe, before crossing continents into North Africa, to say my first 'Hello' to the countries of Morocco and Tunisia. Here is a brief rendition of my three amazing 'voyages of discovery'.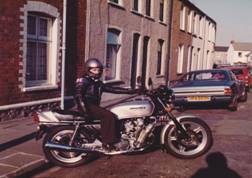 This is me back in 1981 –at the tender age of 22 (I had lots of hair back then) –and this was the motor-cycle that I owned at the time – a Honda CBX 1000 –the fastest production bike in the world, which boasted a 1047cc engine, complete with 6-cylinders, 6 carburettors and 24 valves!  Apart from being able to accelerate from 0 to 60 in 2.8 seconds, the bike could fly through a standing quarter-mile at nearly 120mph and was capable of a top speed in excess of 140mph. Having such awesome power at my fingertips was nothing less than a dream come true for me –and so I decided to take full advantage of the bikes' indestructible engine.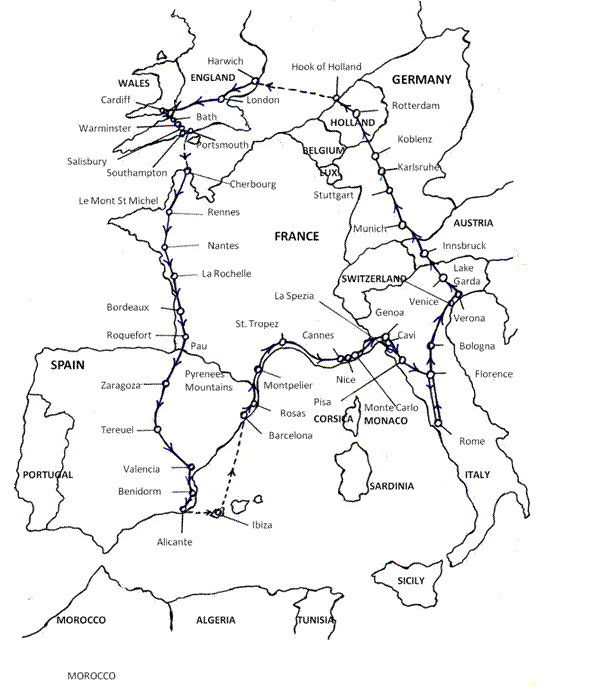 On the 27th July 1981 my girlfriend, Jayne, and I set off from Cardiff, riding 140 miles through Bath Warminster, Salisbury and Southampton, before reaching Portsmouth harbour, where we then took an over-night ferry to Cherbourg in Northern France. On the ferry we met-up with two English lads, who were travelling down to Rosas in Northern Spain on their Yamaha XS1100 and so the next day the four of us visited Le Mont St. Michel, on France's northern coast, before riding 400 miles together, passing through Rennes, Nantes and La Rochelle, before finally reaching the city of Bordeaux at around 7pm in the evening. From Bordeaux the lads travelled in a south easterly direction, heading for Toulouse, whereas Jayne and I continued heading directly south until we reached the town of Roquefort. Having covered over 500 miles on our first day in France, the pair of us crashed-out in a quaint little hotel for the night. The following day would be one of my favourite-ever riding days, being surrounded by some of the most spectacular landscapes one could ever wish to imagine, as Jayne and I crossed the Pyrenees Mountains, from France into Spain, before riding through Zaragoza, on our way to a little Spanish town called Teruel.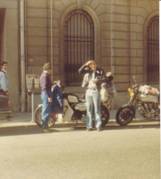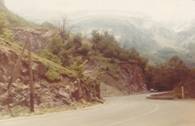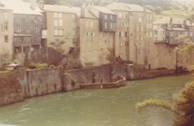 Above is a picture of the 2 lads we met on the ship, along with just a few of the many pictures we took whilst riding through the Pyrenees Mountains, Jayne snapping several of them from the back seat of the bike as we rode along.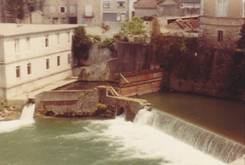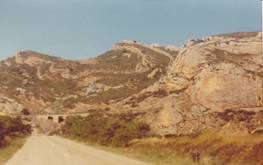 In Teruel I managed to crash the bike, after the back wheel slid-away from me on melted tarmac, as I turned a corner, leaving Jayne and I sprawling in the road –but thankfully unhurt, as we were travelling very slowly at the time. From Teruel we headed for Spain's southern coastline, passing through Valencia, before finally coming to a halt in Benidorm –Blackpool in the sun –and the home of the infamous 'Sticky-Vicky'!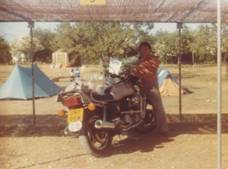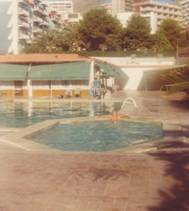 Here are a few shots of me enjoying the blistering heat of a Spanish Summer. (Unfortunately, there aren't any photos of Jayne, because she took them for her album when we parted ways). After 3 days of rest and recuperation on the Spanish mainland, Jayne and I took a ferry from Alicante to the island of Ibiza, where we had our second disaster of the trip, when the back wheel suffered a puncture from a donkey's hoof nail!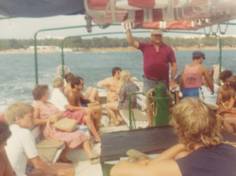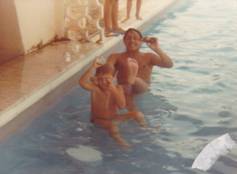 That's not the ferry by the way –this was the short boat-trip we took around the tip of Ibiza's southern coast to the beach at Es Cana and the second picture is me with the son of the owner of the apartment which Jayne and I stayed in for one night. With only hours to go before our ferry left for Barcelona we managed to get the problem solved, by inserting a battered old inner-tube into a tubeless tyre! After reaching the great city of Barcelona the following morning Jayne and I rode about 100 miles to Rosas, where we met-up with the guys again (having only left them a week ago).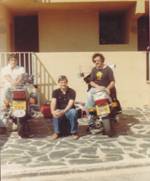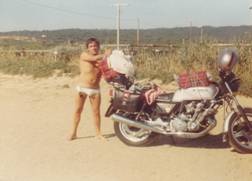 Pushing-on across the border into the South of France Jayne and I luxuriated ourselves on the infamous beach of St. Tropez, before moving on to Cannes, Nice and Monte-Carlo in Monaco. Here are a few shots of the infamous (sandy) beach of St. Tropez, a pebble beach in Nice -and me standing on a gigantic rock in Monte-Carlo. You might note in the first shot that I am wearing a pair of brilliant-white underpants –that is simply because I left my bathers in Rosas and I was determined to get an all-over tan!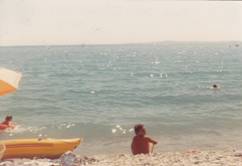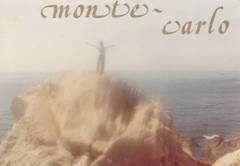 As St. Tropez was reputedly the first beach to allow topless bathing in Europe (please correct me if I am wrong) I gathered that nobody would be taking any notice of what I was wearing and so I proceeded to prostrate myself on a beach towel –right next to the waters' edge! After a brief tour around Monte Carlo - the wealthiest city in Europe, Jayne and I crossed borders once again –only this time into Italy, where we pulled over into a small town called Cavi for 2 nights. Jayne and I then pushed on south through La Spezia and on to Pisa, where the pair of us climbed to the very top of the Famous Leaning Tower, before riding another 171 miles –all the way down to Rome. Below is yours truly sitting on the very top of the Leaning Tower of Pisa, (something one wouldn't be allowed to do now, of course) and it is easy to see the acute angle of the building.

This was back in the early 80's of course –many years before immense stabilising work had been carried-out on this truly amazing wonder of the world, not to straighten it up, but just to stop it from toppling-over altogether! Also below is a picture of the Bell Tower, which consists of 7 bells, one for each note of the musical scale. The total weight of the bells is 10,496kg –that's 23,139lbs –or 10.3tonnes –in case anyone is counting! After visiting the unbelievable Coliseum the following day Jayne and I went to the cinema to see Bruce Lee's pen-ultimate film The Way of the Dragon, which had been filmed in Rome in the early seventies. In fact the most famous fight scene of all time, where Bruce Lee takes on 7-times world karate champion, Chuck Norris, in a fight-to-the-death, was actually shot in the Coliseum itself.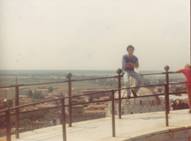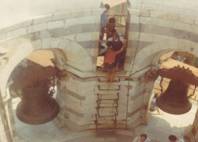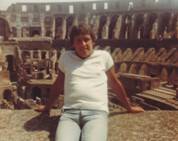 From Rome Jayne and I began our 1700 mile journey home, passing through Florence and stopping in Venice on the way, where, apart from having a new back tyre fitted to the bike, we also had our first unexpected breakdown, when the battery suddenly decided to die on us–and we also got eaten-alive by a plague of mosquitos –or 'Dracula's disciples of doom', as I prefer to call them!

Venice is famous for its gondola's -so wonderful for all the hopeless romantics in this world! However, with a price-tag of £8 for a short sail in one of them Jayne and I opted for the ferry-bus service instead –as the fare was equivalent to only 20p!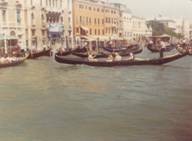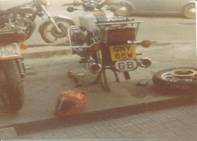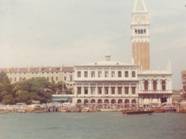 And here we are getting the new tyre fitted to our bike –which caused a lot of confusion for the fitters when they unwittingly discovered a battered old inner-tube inside a 'tubeless' tyre –I had forgotten to tell them -oops! A trip to Venice would not be complete without a visit to St. Marks Square –or sailing under the Bridge of Sighs –but for some inexplicable reason the photos Jayne and I took of the bridge were either lost –or they just never came out!

Lord Byron gave the bridge its name back in the 19th century, apparently because the sight of Venice from the bridge was the last view a prisoner would get before being taken down to his cell! Also, local legend says that if lovers kiss on a gondola whilst going under the bridge at sunset, they will be granted everlasting love and bliss and will stay happily married for the rest of their lives. From Venice Jayne and I pushed on across to the city of Verona, where, after kipping it rough on a patch of grass for the night, we moved on up to Lake Garda.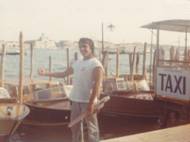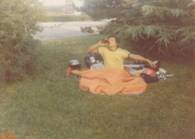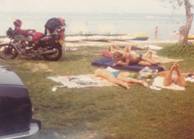 After a leisurely afternoon by the waters' edge, Jayne and I continued heading north, crossing borders once again into Austria and after traversing the unbelievable Alpine Mountain Range, we crossed borders once again, only this time into Germany, before coming to a halt at a camp-site just outside Munich. When in Germany, do as the Germans do! Below is a picture of me enjoying a 'stein' on our camp-site in Southern Germany.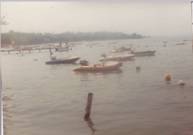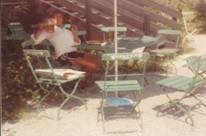 In Germany Jayne and I had our first real soaking of the journey, as the heavens opened on the whole country it seemed, before crossing our pen-ultimate border into Holland, where we took our final ferry back to Harwich in England. From here Jayne and I still had a 250 mile ride back to Cardiff, which (including stopping off for fuel and getting the battery charged at one of the service stations) took us around 6 hours to complete. In just over 3 weeks Jayne and I had covered just under 4,000 miles.

My 2nd trip around Europe came 2 years later, in May 1983, to be precise and I was now with Caryl, the woman who would later become my wife (before becoming my 'ex-wife', 10 years later!) I also had a different motor-cycle –a Kawasaki Z1000H, fuel injection model –and this is her in all her glory.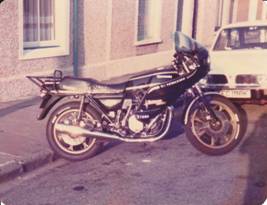 Unfortunately the fairing got completely destroyed, along with the front forks and the exhaust system, when a motorist decided to reverse his car out of his driveway without checking the road first! As I had already decided to go on my second tour of Europe, at the time of the crash, I decided to rebuild the bike back to its original specification, with upright handlebars, instead of the clip-on bars I had bought with the fairing.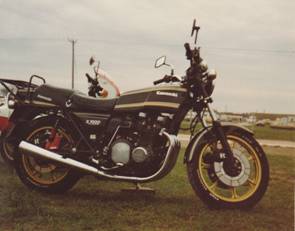 I also invested in a set of Marzocchi Strada rear shock absorbers for better handling and a more comfortable ride. And this is the newly-rebuilt bike, complete with a brand new front-end and a shiny new exhaust system.
                       


And this is Journey number 2. As you can see the route is entirely different from Journey number 1, although the initial run to England's southern shores is virtually identical, barring the fact that Caryl and I took a ferry from Southampton to Le-Havre, as opposed to sailing from Portsmouth to Cherbourg, which Jayne and I had done on the first trip.

Our route through France was generally a straight-forward run, heading first for Paris, before continuing on south down to Dijon, Lyon, Nimes, Montpellier and finally Sete on the French Riviera. Once again we managed to cover over 500 miles on the first day, coming to rest in a place called Montelimar. Unfortunately, after the first few hundred miles the rains came down with a vengeance, literally flooding the motorways of France, as Caryl and I blasted our way south. Knowing how unsettled the weather had been all over Europe for the past fortnight, Caryl and I had come prepared, having borrowed 2 sets of bright yellow oil-skin suits from my uncle. We had also taped black bin-liner bags around the front and rear panniers and also my Adidas bag, (which we had strapped onto the rear luggage-rack), to protect all of our clothes and possessions from the torrential downpours. My tank-bag also had a see-through (plastic) protective cover, so that I could still read the map, which slotted neatly into the top compartment of the bag.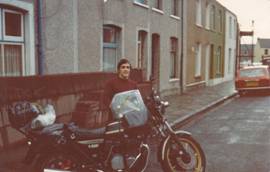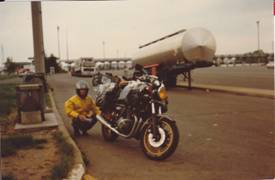 With only 120 miles to ride on the second day, Caryl and I were cruising along the French Riviera within hours of leaving Montelimar. On our first night in Sete we treated ourselves to a cozy hotel room, but the following day we moved into a camp-site for 2 nights, before boarding a 38-hour ferry on Wednesday evening, that would take us all the way to Tangiers in Morocco. Caryl and I had originally planned to take a ferry to Oran in Algeria, before riding due west and crossing the border into Morocco, but after our hotel manager had told us about the ferry which went directly to Tangiers from Sete, (which we never even knew existed beforehand), before planting stern warnings in our brains about how dangerous and unfriendly Algeria and its people can be, we decided to take the safe and easy option instead.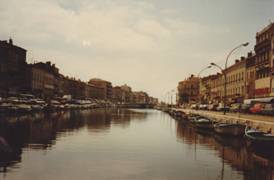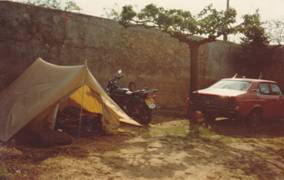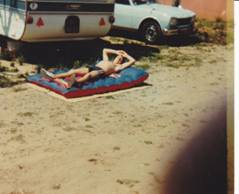 I had learnt a great deal from my first journey around Europe and so I had made some considerable improvements on my second voyage of discovery, such as buying a tank bag, which, apart from being perfect for holding my maps in place, also held a considerable amount of gear in its various luggage compartments. I had also bought a set of front panniers, to go with the rear panniers, which fitted nicely over the sides of the petrol tank, each one holding an abundance of gear.
Also, to make life more comfortable for Caryl and me I had invested in a large 4-berth tent, as my old 2-berth 'Wendy-house', which Jayne and I had used, was not only way too small to fit all of our gear in and still leave us enough room for us to sleep comfortably, but it had no sewn-in groundsheet, to keep the bugs at bay, no fly-sheet, to stop the tent from getting drenched in stormy conditions –and the main door zip had long-since ceased to function! Having such a large tent meant that Caryl and I could easily fit a double waffle-bed into the roomy interior and so our days of crashing-out on solid-rock floors and waking-up in the middle of the night with several aching limbs were now at an end!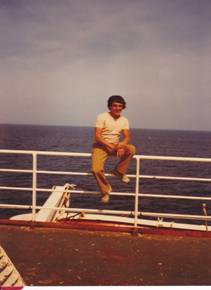 Here I am again, striking a pose for the camera –somewhere in the middle of the Mediterranean –and this is the Gibraltar Straits –where the Atlantic Ocean and the Mediterranean Sea meet head-to-head.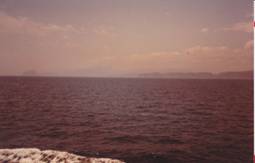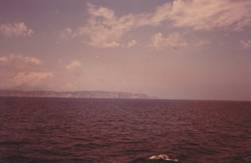 Road to Morocco –along with an over-powering welcome from the local lads, who not only wanted to be our official guides for the duration of our stay in Tangiers, but they also offered to run my bike on dope and sell me anything from 'black' money to half-a-pound of hashish "Good shit!"

It seems quite surreal when you are sailing along on the waves -with the southern tip of Europe on one side of you –and the mighty continent of Africa on the other.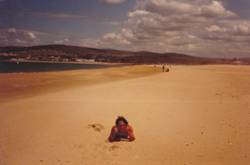 Although the beach looked really inviting at first glance, you can see the prevailing winds blowing sand in my eyes and up my nose, causing me to retreat back to the hotel swimming pool in no time at all!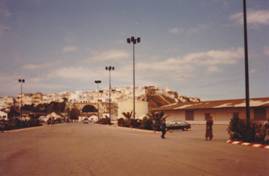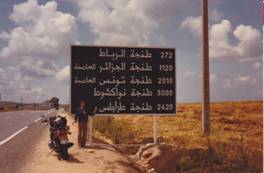 From the road leading into the city of Tangiers...to the road leading 'out' of Tangiers!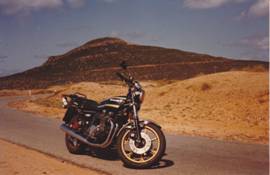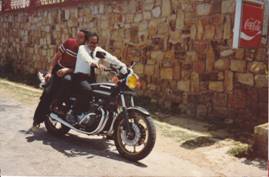 ...and then there are the desert roads of Tangiers!   2 more admirers -who couldn't wait to have their photo taken on my 'HOG'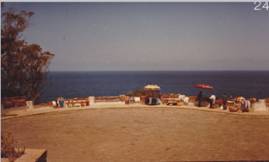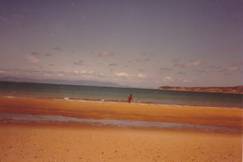 The beautiful peninsular of Cap Spartel. They came in search of paradise –and found it -on a deserted beach in Morocco!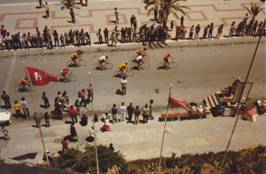 Not the 'Tour-De-France' perhaps – but none-the-less a great view from our bedroom window of dozens of cyclists, as they raced through the streets of Tangiers. Below: I simply had to treat myself to a fez, as a souvenir of our wonderful visit to Morocco.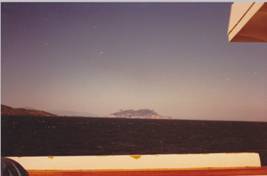 Our ship is now passing the legendary 'Rock of Gibraltar' (sadly the border was closed back in 1983 –and it would be another 26 years before I finally climbed that great monolith of British territory!)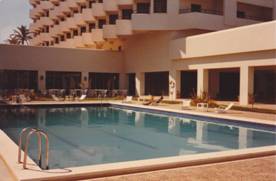 From the port of Algeciras Caryl and I travelled north to the magnificent city of Cadiz, where there was a huge fiesta going on when we arrived and so the streets were crammed with party revelers, who continued celebrating well into the early hours of the morning!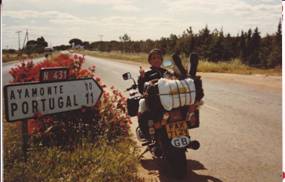 Above: The Hotel Atlantico in Cadiz – a fabulous place, with luxurious accommodation. From Cadiz Caryl and I travelled in a westerly direction, stopping for lunch in the magnificent city of Seville, before moving-on through Huelva to Ayamonte, where we crossed the border from Spain into Portugal.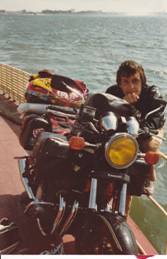 To our great surprise Caryl and I had to take another ferry, (which was more like a glorified raft really) to cross from Spain into Portugal! (There is now a bridge traversing the river, which I crossed in 2009 –only coming the other way, from Portugal into Spain). From the border it was only about an hours' ride to the town of Albufeira, where Caryl and I managed to find an excellent camp-site, which we had seen advertised on a billboard along the way.
For the next 3 days the pair of us would chill-out and enjoy the Sunny Algarve coast –but not before getting booked by the police –for riding without crash helmets! (The local gendarmes actually held Caryl as a hostage, before sending me off to get money from the bank to pay our fines –and then to top it all they ended-up taking off with our passports, which left Caryl and me riding around the back-streets of Albufeira for about 2 hours, as we searched in desperation for the local police-station, where we were finally able to retrieve those all-important documents!)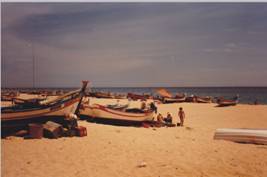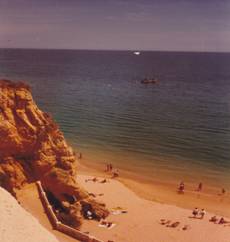 Here are some pictures we took of just a few of the Algarve's magnificent beaches.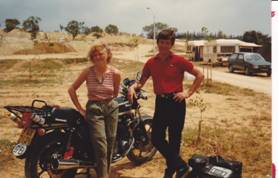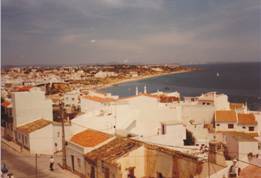 Making new friends at the camp-site: – a lovely couple (and fellow bikers) from Germany.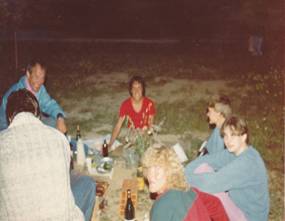 Here we are enjoying a barbecue with 6 new friends from Germany -4 bikers and 2 teenage students. At 44, Carl, who is sitting to my right, was the oldest member of our little group and he had been riding motor-cycles all over Europe for the past 25 years. It was at this gathering that I enlightened my new friends about our little dust-up with the law, before describing the police commandant as "A right little Hitler" –Oops again!
And so the day dawned and now it was time to say our fond farewells to our new-found friends –and also to Albufeira and the beautiful Algarve coast, as Caryl and I headed in a north-westerly direction to Portugal's capital city of Lisbon. From Lisbon we moved on to a place called Leiria, about half-way up Portugal's western coast, where we decided to stay for the night.



A few photos we took during our long journey to Santander on Spain's northern shores.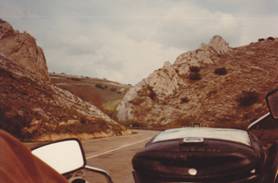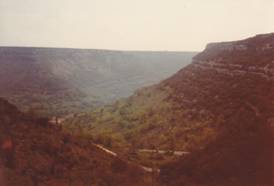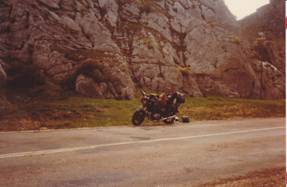 The following morning Caryl and I continued heading north to the city of Coimbra, where we then changed trajectory. We were now heading in a north-easterly direction and after a few hours riding, we crossed borders back into Spain, before finally coming to rest in the city of Salamanca. Every single part of the journey so far had been so enjoyable and the changing landscapes were unbelievably beautiful. The further north we rode, the greener our surroundings became and on our third day of travelling we passed through Valladolid, Vargas and Burgos, before finally reaching journey's end – the port of Santander.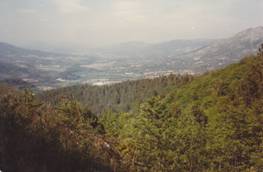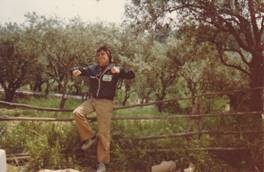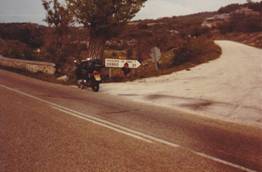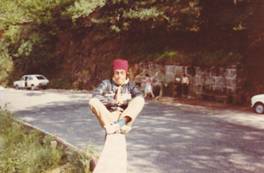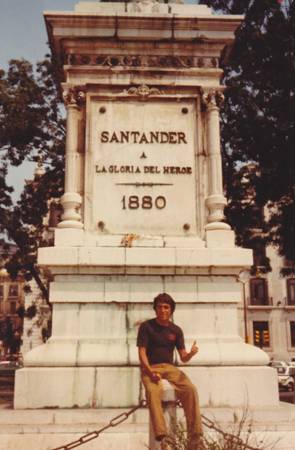 At the port of Santander my 2nd trek around Europe was virtually complete, as all that remained now was a 24-hour ferry to Plymouth, followed by a 150-mile ride back to Cardiff. However, little did I know it, but I was just about to suffer the worst bout of sea-sickness that I had ever encountered in my life. Mind you, considering that this was primarily caused by getting absolutely smashed-out-of-my-mind the previous night I can't really blame the sea for my illness, can I! However, the good news is that Caryl and I met a guy on board the ship who had just completed a 10,000mile, 13-month trek around Europe and North Africa –on a push-bike –what a guy!

THE END


Map of Journey number 3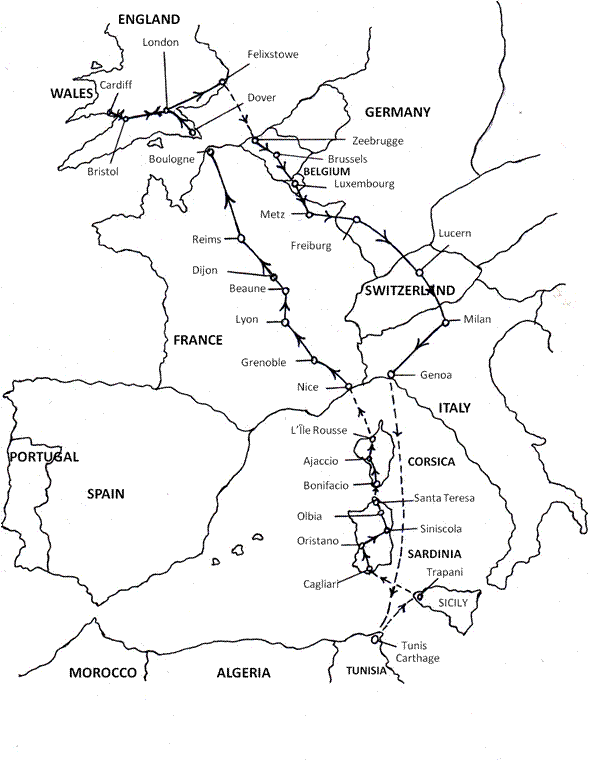 And finally – we come to journey number 3 –my third and last voyage of discovery –well for the next '17' years anyway! As you can see the route is entirely different to the last two, although Caryl and I will once again be riding my Kawasaki Z1000, as it has only been 8 weeks since we returned home from our last trip. On that little jaunt the pair of us managed to notch-up a total of 2,200 land-miles –and well over a thousand nautical miles, whereas on this trip we would end-up covering around 2,800 miles overland and another 900 at sea.

However, one major difference on this trip is that Caryl and I will not be travelling alone, because we have been joined by my great friend Roy and his wife Carol, who will be riding his brand new Kawasaki Z750 Turbo, which is not only more powerful than my bike, but because of its specially-developed mono-shock frame it also handles a lot better than my bike ever could!

After a 250-mile ride from Cardiff to Felixstowe, the four of us boarded an overnight ferry to Zeebrugge in Belgium –and the next morning we began our 500-mile ride through Belgium, Luxembourg, France and Germany, before finally coming to a halt at beautiful Lake Lucerne in Switzerland. The weather was so hot on that first day that I rode over half of the journey wearing no more than a pair of skimpy red shorts, a crash helmet -and a pair of training shoes!

The first leg of our tour: UK to Italy, via Belgium, Luxembourg, France, Germany, and Switzerland.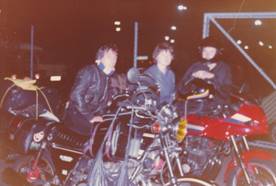 This is Roy, his wife Carol and me, patiently waiting to board our ferry to Felixstowe (along with my fiancée, Caryl, of course, who is taking the photograph!)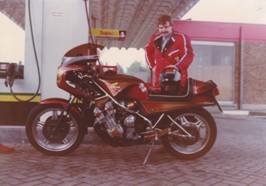 And this is a race-converted Honda CBX1000 –power personified. Both Roy and I were in awe of its majesty, as the owner (who happened to be Flemish), screamed-off at a set of traffic lights like a bat-out-of-hell, his 6 into 1 exhaust system sounding like a sonic boom, as he tore-up the tarmac at some ungodly speed!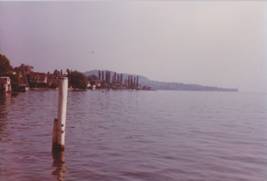 How 'NOT' to ride 300 miles on European motorways –even if the temperature is in the 90's!

Here are a few photographs we took of Lake Lucerne and its surrounding countryside.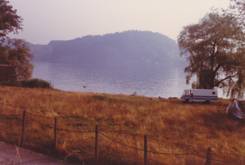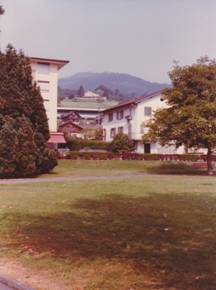 From Lake Lucerne the four of us headed for Belinzona, where we crossed borders from Switzerland into Italy, before heading due south to the city and port of Genoa. Arriving around 5pm we checked into a hotel for the night, before going out on the town for a slap-up meal –to celebrate Roy and Carols '1st' –and my '3rd' arrival on the Mediterranean coast.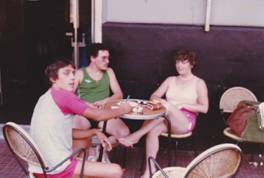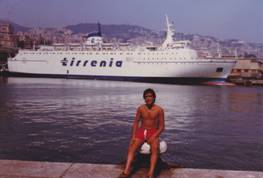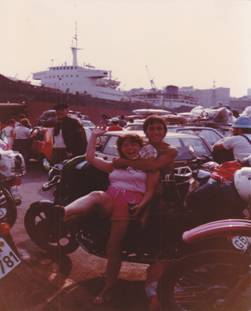 The following day the four of us would spend 12 hours queuing and waiting in a packed out ferry-port – in temperatures exceeding 100 degrees! And so we decided to laugh and joke about it –otherwise we would have either cried –or simply gone crazy! From Genoa the four of us took the 24-hour 'Habib Tunis' ferry to the port of La Goulette in Tunisia.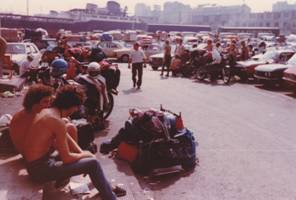 During the crossing I managed to break into the first-class section of the ship, so that I could enjoy a cool dip in their private swimming-pool –and Roy and Carol both burned to a crisp under the mid-day sun! After arriving in Tunisia we spent the next 3 days luxuriating in the blistering heat of North Africa -and Roy and I spent several hours riding around the city of Tunis, looking for the office where we could buy our ferry tickets to the island of Sardinia!
   Here are a few photos on board the 'Habib Tunis', along with five taken in Tunisia.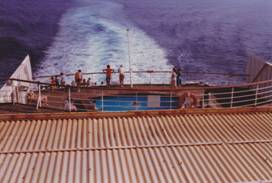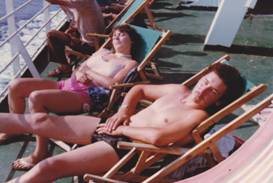 A swimming pool –but only for the first-class passengers –unless one scales the outside of the ship of course! Not only fools and Englishmen, but Welshmen (and women) also go out in the mid-day sun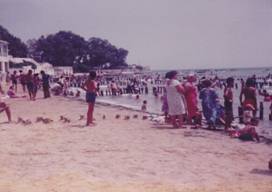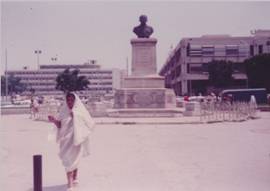 Enjoying the packed beaches -before riding around -and getting lost, in the city streets of Tunis.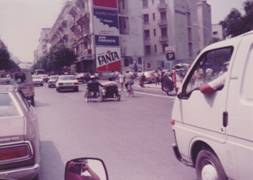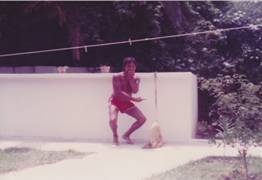 All kinds of vehicles on the roads of Tunis! (That's me in the mirror -taking the photograph). And the second picture is me joking with Caryl that her mum must have flown-in to Tunisia to visit us!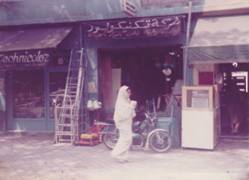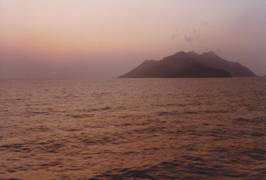 After sailing away from the port in Tunis we called-in at Trapani in Sicily for a few hours before moving-on to Cagliari on the southern tip of Sardinia.              


             And here it is -the barren, mountainous, (Mafia-ridden) island of Sardinia. Unfortunately, we hadn't been on the island for very long before I ran out of fuel and so Roy and I had to go in search of a petrol-station on his bike, which meant abandoning the girls at the side of the highway, to look after my bike, for about half-an-hour!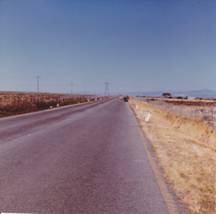 After finally refueling our bikes the four of us rode on to Oristano on Sardinia's western shores, before crossing over to Siniscola on the east coast, where we set-up camp for the next 3 nights of rest and recuperation.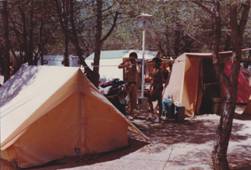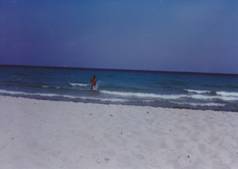 This is our (rather-crowded) camp-site in Sardinia -and this is our nearest beach - paradise found –pure white sands and warm, turquoise seas –unbelievable!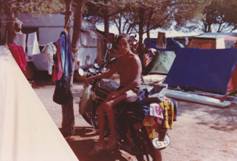 And then there were '2' –Roy and Carol suddenly announce that they are going to make their way home –and so they have taken the local ferry to the French mainland, while Caryl and I stay at the camp-site for 2 more days.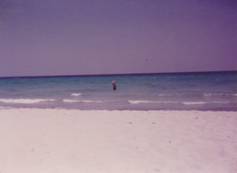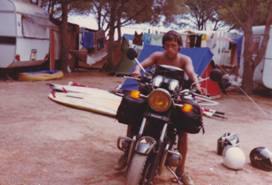 This is me -horsing-around in the crystal-clear waters. Even though we are still on the Italian island of Sardinia, I am already sussing-out our route around the French island of Corsica –which looks like one gigantic rock from where I am sitting!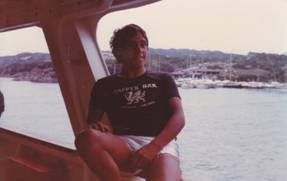 After riding up north to Santa Teresa, Caryl and I caught a short ferry to the French island of Corsica, where we rode down yet another gangplank onto undiscovered territory –for the umpteenth time! Caryl and I are now crossing from Italian territory into French territory –passports at the ready.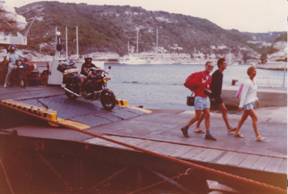 We are now at the port of Bonfacio and our first major destination is Ajaccio –which incidentally is the birthplace of Napoleon Bonaparte. From Ajaccio Caryl and I will continue heading north to the port of L'Ile Rousse, where we intend relaxing for a few days, before taking a ferry to the French mainland.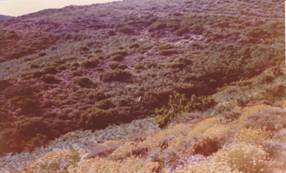 However things never seem to go as planned do they -because before Caryl and I know it we are surrounded in all directions by hills, more hills -and even more blessed hills! As we finish climbing one hill, we turn a corner only to be faced with a steeper one –and so the scenario continues, time-after-time!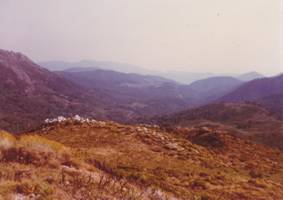 These were soon followed by mountains, more mountains –and even more frigging mountains. Steep inclines, uneven dirt roads and dangerous gravel-tracks welcomed us to the 'real' island of Corsica! Both Caryl and I are totally exhausted, having covered only 110 miles in nearly eleven hours of riding! The island of Corsica is one gigantic rock -period! (Gibraltar, eat your heart-out!)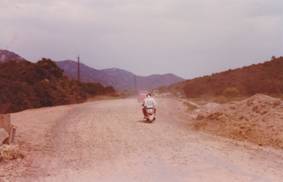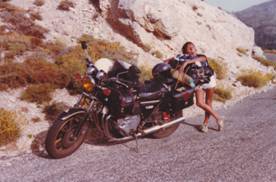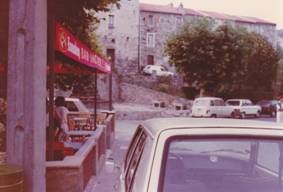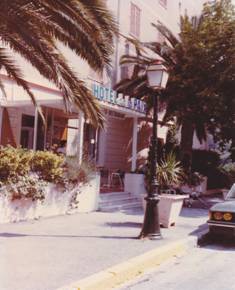 Finally we stopped for a drink 'on top of the world' –and also on my 24th birthday (9th August 1983). Realizing that we are not going to make it to the north of the island on this day Caryl and I pulled-over into the town of Corte, which we figure must be the highest point on the island, as we can see all around us –and this is where we spent the night – in the Hotel de la Pax. The following day we began our descent down to the coast –and it was such a pleasure freewheeling for miles-on-end, and only having to give the gentlest of touches to my brakes every few seconds, rather than changing up and down in the gear-box like a man possessed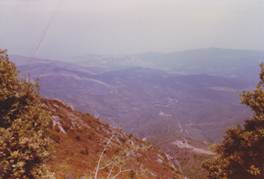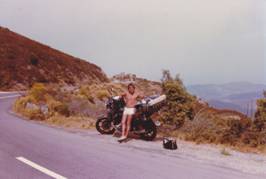 More hills and mountains, but at least it's all downhill. The lower we get, the warmer it becomes –time to strip-off again!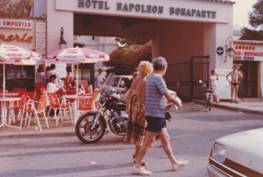 This is the Hotel Napoleon Bonaparte –which has been named after a certain famous Frenchman, of course! After sussing-out our ferry tickets for the following day Caryl and I spent the rest of the afternoon on the beach, before pitching our tent in a camp-site for the final time. 


Corsica to mainland France –and the long ride home.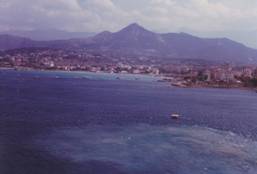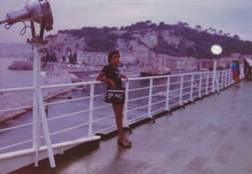 Saying a final (and somewhat sad) farewell to Corsica - the island that almost defeated me -and here we are arriving in Nice after a 5-hour ferry-crossing –and dusk is settling in.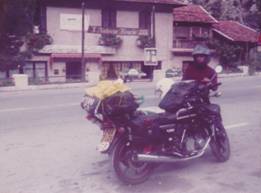 It is now the following morning and the bike is fully loaded, as Caryl and I begin our 800-mile ride to Boulogne. After only riding about 20 miles last night Caryl and I had a lot of ground to cover today. Our first destination was a place called Grenoble and from here we rode in a north-westerly direction to Lyon first and then on to Beaune –the half-way mark, where we decided to call-it-a-day. The following morning we moved on up to Dijon and then on to Reims, before finally arriving in Boulogne around 8pm in the evening! Although our ferry-tickets were booked for the following day, Caryl and I were able to get on a ferry this evening –without having to pay an additional premium.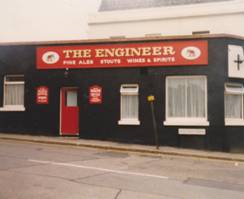 Back on UK soil –and just in time for 'last orders' at The Engineer Pub in Dover. The 250-mile ride to Cardiff the following day was very enjoyable and quite uneventful –apart from one of my side-panels flying-off –but that was soon retrieved and shortly afterwards the pair of us arrived home safely. All 3 journeys had been a great success –but was this the end of an era?