Battle of The Greyhounds - Australia Part II
My journey around Australia would be so different to my American voyage of discovery in so many ways, but primarily because my fiancé, Sally, would now be accompanying me for the duration of the trip, whereas the children would be staying at home in the U.K. this time, all three of them being involved with more important commitments. Six and a half years had elapsed since we first embarked on our American 'holiday of a lifetime' and now Liam was nearly nineteen and in full time employment, Carl was sixteen and had decided to stay on in school and Hayley had just turned fifteen and was up to her eyes in mock exams, in readiness for the 'real thing' in the summer-time. Sally and I had met in the summer of 2001, the year after I had returned from America, but ironically our paths had unwittingly crossed on the journey in 2000, as she happened to be staying in a hotel in St. Petersburg the night that I had arrived in Tampa!

With Australia being at the other end of the world, we had decided to have a two-night stop-over in Dubai on the way over, not only to break-up the journey, but because we had always wanted to visit this place, which looked and sounded so magnificent. However, first we had to get out of Tenerife and having not realised that the night we would be flying off the island was in fact 'Spanish Christmas Eve', we nearly missed our flight – and that was only after having survived the most frightening car journey of my life, as my taxi driver roared through the pitch-black country lanes, (with a sheer drop on one side), then duly whizzed past the 'correct' turn-off at an immeasurable speed, inevitably getting us totally lost in the process, before finally ending up at the airport – less than two minutes before they closed the check-in desk!

Dubai sure lived up to its reputation and the Burg Al Arab surpassed all of our expectations as Sally and I stood next to this amazing 'seven-star' rated hotel and gazed up at this unbelievable structure, the pair of us simply in awe of its majesty! The Palm Island's were being built all around us and 'The World' was still in its relative infancy, as the land reclamation continued along the shores of the Arabian Sea. Dubai's shopping mall's were the most unbelievable we had ever seen in our lives –one of them actually including an indoor ski-slope, complete with falling snow -and even chair-lifts to take the skiers back up to the summit of this incredible man-made mountain! The 'Duty Free' boutiques in the airport also housed the most comprehensive range of goods one could ever wish to buy and as Sally and I flew to the merry old Land of Oz, we both swore that one day we would return to explore all seven of the United Arab Emirates.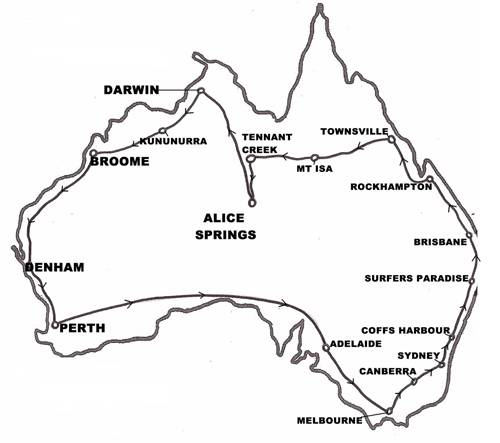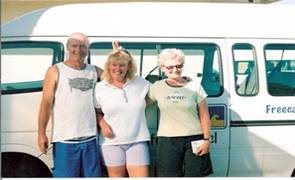 Perth, 'the most isolated city in the world', where we began our journey, would unexpectedly turn out to be our favourite part of Australia.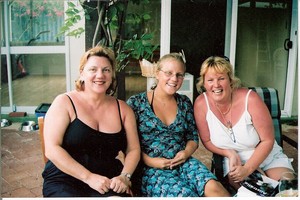 Maybe it was because of all the wonderful people we met there, or perhaps it was because of the beautiful places nearby that we visited, such as Mandurah, with its pristine coastline or Fremantle, with its infamous prison.
  And how will we ever be able to forget our wonderful day out on Rottnest Island, where we came face-to-face with the 'quokkas' ('rats, as big as cats'!)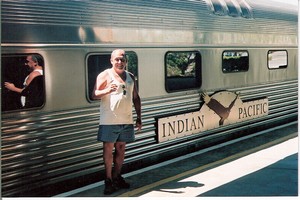 Next in line was our first Great Railway Journey on the 'Indian Pacific Train'. Starting at Perth in Western Australia, we first stopped in the gold-mining town of Kalgoorlie, before continuing on across the infamous Nullarbor Plain, and then on to a small town in the middle of nowhere called 'Cook'.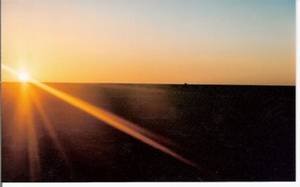 After a short break here, we continued on travelling for a total of 2980km - all the way over to the town of Glenelg in Adelaide on the far-eastern shores of South Australia.
                          
After three days of rest and recuperation Sally and I set off once again, heading south into Victoria and the famous city of Melbourne.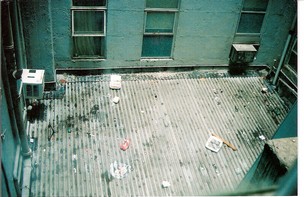 It was here that we learned all about the notorious gunslinger called 'Ned Kelly', was musically entertained at our first 'gay and lesbian festival'- and got duly lost and subsequently drowned as rats whilst looking for our  'low-budget' accommodation!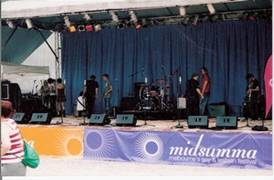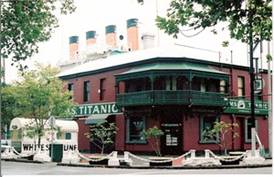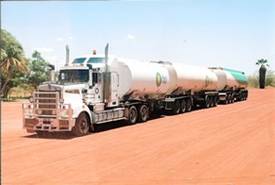 At nearby Williamstown, we also discovered an amazing pub-cum-theatre, which was not only named after the 'Titanic', but also built to look like it as well – and in the evenings we watched the 'Australian Open Tennis Tournament', which was being played live only a few miles from our hostel.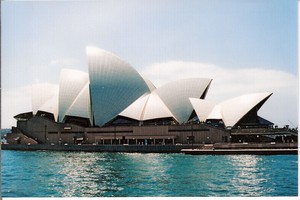 After staying one night in Canberra (Australia's Capital Territory), we moved on to Sydney, where we did the usual tourist bit, by visiting Sydney Opera House, before taking several photos of the Sydney Harbour Bridge. I then decided to take on a semi-professional tennis player, to raise $100 for charity.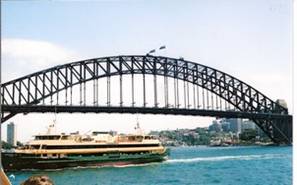 After a visit to the island of Manly, where Sally and I were kept out of the water by a warning of 'blue-bottles' (jelly-fish) coming into the shallow waters, I played tunes with an Aborigine band, before moving on to Bondi Beach to do battle with the waves.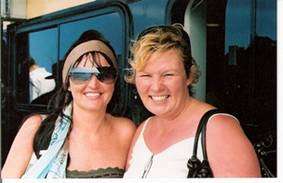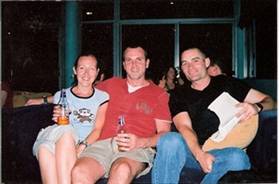 After an over-night stay in Coffs Harbour, where Sally and I went to a fantastic barbeque -and also discovered the 'Big Banana', we came across Peter - a wonderful guy who worked at a time-share resort and had truly amazing stories to tell.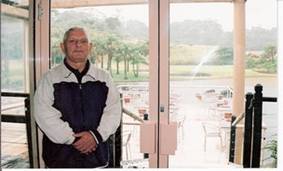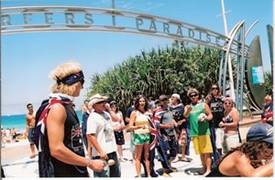 Moving northwards we arrived at Surfers Paradise, where the golden sands and the massive waves were simply out of this world –and so we decided to stay for an extra night.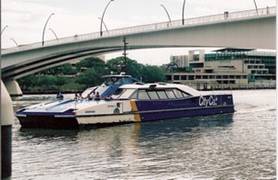 In Brisbane Sally and I spent the day on small speed-ferries, whizzing back and forwards across the Brisbane River which flows around this famous city, before moving on up to Rockhampton, where I enjoyed my first taste of 'crocodile' and 'kangaroo'!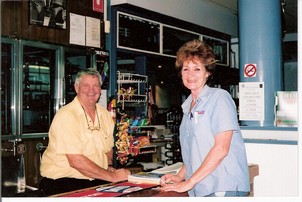 After a day trip to Yeppoon, where Sally and I watched the ships sailing out to Keppel Island, before managing to come face to face with a giant lizard, we returned back to our hovel for one final nights' sleep!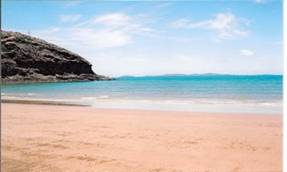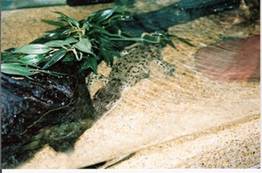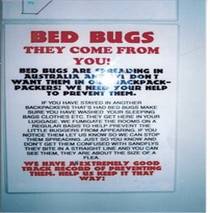 At Townsville everything changed, including our route, as cyclones hit the north-eastern corner of Australia, causing flash-flooding everywhere and forcing Sally and I to abandon our ideas of going up to Cairns -and as for sailing out to the Great Barrier Reef for a day's scuba-diving (one of my life-time ambitions) – well this was now sadly out of the question!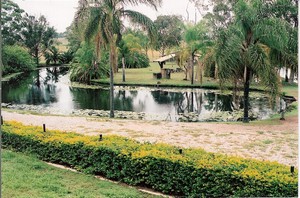 Racing against time, Sally and I sped due west across Queensland, heading for Mt. Isa with the cyclone in hot pursuit, flooding the roads and countryside in its wake and pushing us further and further inland until we reached the intersection at Tennant Creek.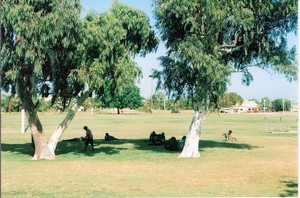 After a lengthy battle with bureaucracy, we took the bus going south to Alice Springs, where we planned to stay for a few nights, before taking an excursion down to Ayres Rock, to complete yet another ambition of mine. Unfortunately, this second dream of mine also had to be cancelled, as personal circumstances forced us to make our way home instead –but not before the rest of the journey had been completed.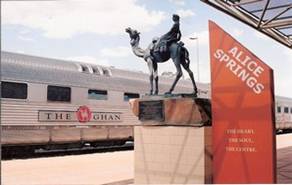 Taking the Ghan Train north to Darwin, Sally and I soon met-up with another wondrous bunch of characters, all of whom had their own stories to tell of life, love –and their travels on the road.

  After visiting several monuments and war memorials (before contracting some kind of tummy bug -which lasted 24-hours) our time in Darwin soon elapsed, and so we moved on across to Kununurra, where we came face-to-face with 'Kelly's Knob'!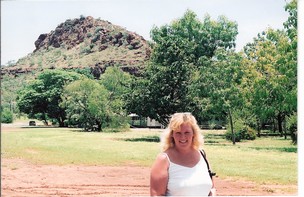 After one nights' stay in a great back-packers hostel, where the pair of us made friends with two Norwegian guys, Sally and I moved on across to Broome, where we stayed for three whole nights -only this time we became pals with a complete 'swimming-pool-full' of travellers!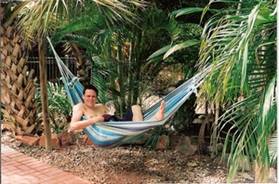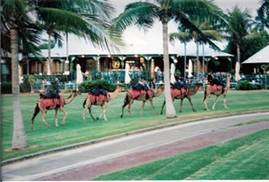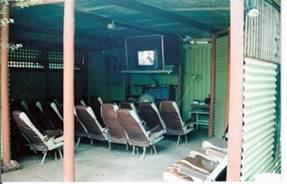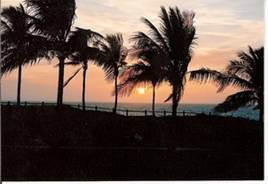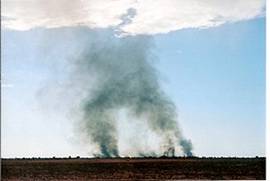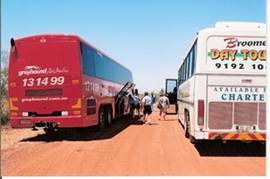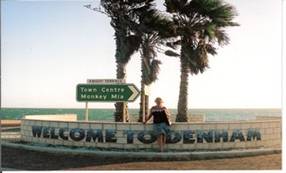 Our final destination was Denham, where Sally and I checked into a beachside back-packers lodge for a few nights rest and recuperation.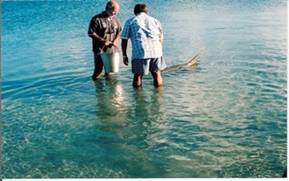 During this time we also paid a visit to the fantastic wild dolphins of 'Monkey Mia', where I was lucky enough to be given a fish to feed one of these beautiful creatures.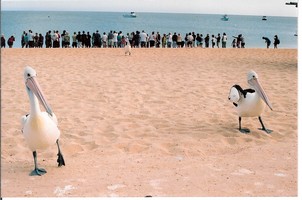 Tomorrow Sally and I would be taking our last bus-ride down to Perth, where the journey had begun less than six weeks ago.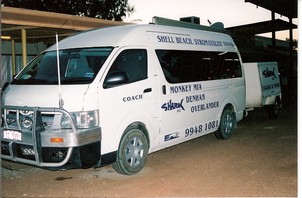 However, as we settled ourselves down for our final nights' sleep in Australia, a terrifying earthquake suddenly struck Denham and the walls of our building began to shake like crazy! "Could this really be the end of the line for the both of us", I thought to myself?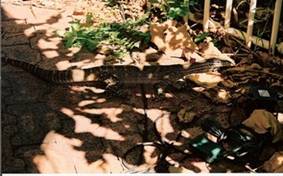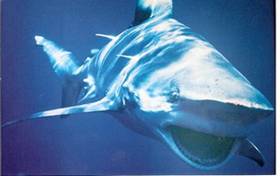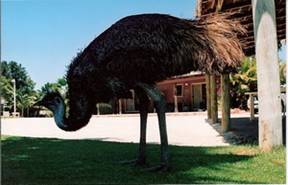 And so it's a fond farewell to the continent of Australia –along with all of its amazing creatures and unbelievable landscapes. As our aeroplane took off from Perth Airport, I immediately swore that one day I would return to the 'merry-old land of Oz'...and rest-assured - I will!