Battle of The Greyhounds - America Part I
It is now July 2000 and I am about to embark on one of the greatest adventures of my life. The thought of doing 'Route 66' on a motor-bike had been swirling-around in my mind ever since I completed that first journey around Europe –but now I had 3 children to consider –and I wanted them to live the dream too -and so going by motor-cycle was certainly not an option –unless, of course I attached a 2-seater side-car to the bike!

No, we would have to cross this great continent by another means –and the obvious choice I suppose is by car! Unfortunately I did not possess a credit card at the time, which would make it very difficult for me to hire a car –and so the only other alternative would be to buy an old banger, which I would have to sell at the end of the journey! However, I had always been intrigued by the Greyhound Bus system, which apparently goes everywhere in the US –and so I decided to do the trip by bus instead!
Map of the United States of America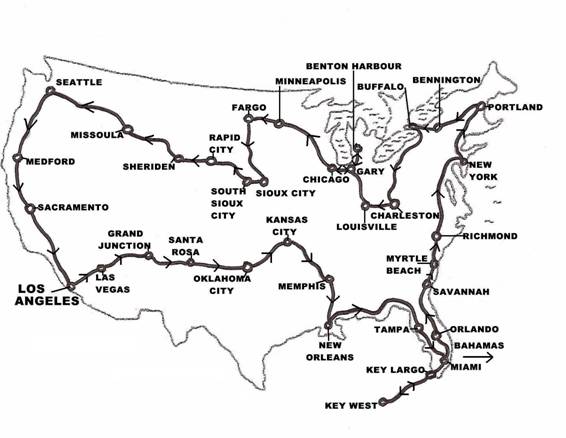 The more I studied the possible scenarios of crossing this amazing continent the more I toyed with the idea of visiting all 48 of the interlocking states, Alaska and Hawaii having to be ruled-out of course, simply because one of them was above and beyond the whole of Canada –and the other one was an island –or should I say a group of islands -3,000 miles out in the middle of the Pacific!

I worked-out that circumnavigating the whole of the continent should take about 9 weeks to complete and so Caryl, my ex-wife, applied for additional time off from school for my 3 children, but unfortunately the school governors refused to extend their summer holiday period and so I had no choice but to do the first crossing, from Los Angeles in California to Miami in Florida on my own, before meeting-up with the children and their mother 17 days later in Miami Airport.

The first crossing of America – from Los Angeles in California to Miami in Florida.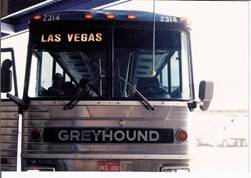 My Greyhound Bus journey around America began on the fourth of July – America's Independence Day, as I set off from Los Angeles in California, across the sizzling desert to Barstow, before heading into Las Vegas – the 'City of lights'.           

My first destination was Las Vegas – the city of lights –and this is my bus!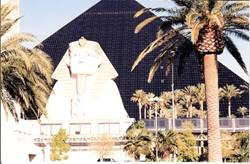 Of course, the air-conditioning system packed-in on the way, but thankfully all of the passengers, including yours truly managed to survive the one hundred degree heat and stifling humidity until we finally reached this magnificent oasis.

The magnificent hotels in Vegas: such as the Luxor, MGM Grand –and Bellagio's.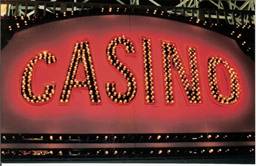 Over the next few days I would see and visit some of the most exclusive hotels in the world, such as the MGM Grand, Circus, Circus, The Venetian, The Luxor and 'Bellagio'
'Casino' -the commonest word –along with the most visited places in Las Vegas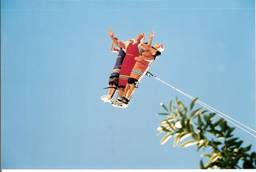 I would also find myself standing on top of the 70-storey high Hoover Dam, dipping my feet in the cool waters of Lake Mead – and also flying over the centre of The Grand Canyon – probably the most amazing 'Natural Wonder of the World' on the planet.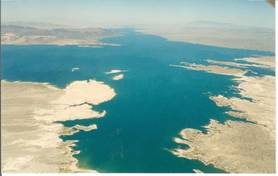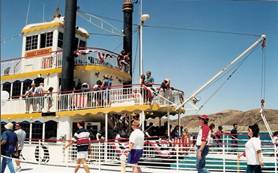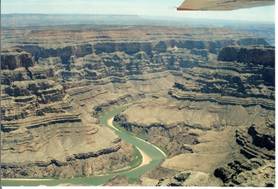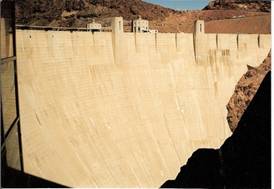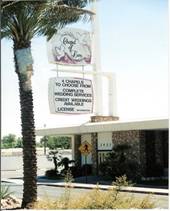 Also, just to keep the adrenaline rushing, I rounded-off my visit with a death-defying sky-dive from 260ft, a hair-raising roller-coaster ride and a vertical log flume plummet, which left me as 'drowned as a rat'! After three days in Nevada and a brief visit into Arizona, my second route took me in a north-easterly direction, cutting straight through the centre of Utah and into the state of Colorado, before finally coming to a halt in a quaint little town called Grand Junction.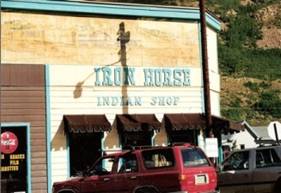 The following day I would enjoy the delights of bathing in the unbelievably 'hot' pools at Glenwood springs, before risking my neck once again as I tried my hand at white-water rafting on the mighty Colorado River!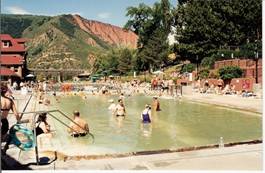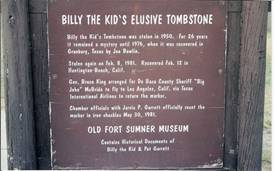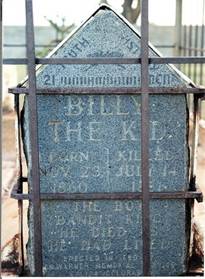 Having survived that little episode, I journeyed on southwards into New Mexico, firstly to the grave-site of Billy-the-Kid in Fort Sumner - where I nearly got eaten alive by the 'hounds of hell', before continuing my way on into Santa Rosa, where I enjoyed my first swim in the 'Blue Hole' – and then managed to get myself involved in a major confrontation with the local psychopath!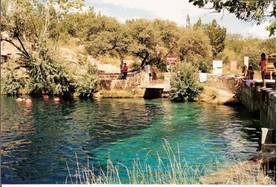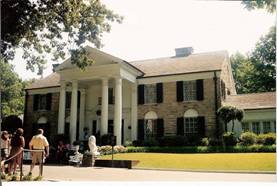 From here I headed due east, through Texas and into Oklahoma, where after one nights' stay, I changed my trajectory, so now I was heading in a north-easterly direction though the state of Kansas, before finally finishing-off in Missouri for yet another over-night stop.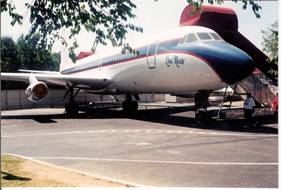 Now I was on my way to fulfil a lifelong pilgrimage as I headed down south through Arkansas and into Memphis, Tennessee – to the home of the King of Rock'n Roll, Mr Elvis Aaron Presley esquire. Spending a day at the Graceland mansion was a dream which had finally come true for me - and being able to step aboard the 'Lisa Marie', Elvis' own aeroplane was simply surreal.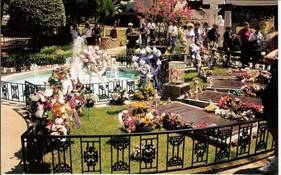 Also walking amongst the priceless collection of cars, motor-cycles, go-carts and the many other vehicles which Elvis had owned during his lifetime was fabulous, as indeed was the time I spent meandering through the trophy and record collection rooms.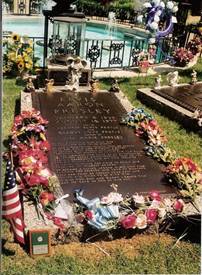 In the Meditation Garden I shed a few reminiscent tears as I stood quietly amongst a group of fellow disciples at the grave-site of my childhood hero, before poignantly signing my name in the guest-book and then leaving to continue on with my journey. Heading directly south, through the state of Mississippi and into Louisiana, I finally came to a halt at the coastal city of New Orleans; the place which must surely be the 'party capital of America'.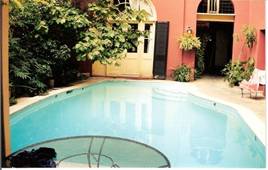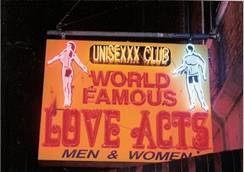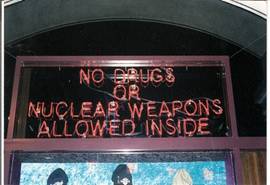 Fine wine, loose women and an abundance of music prevails until the early hours of each morning in this mind-boggling 'den of iniquity'. Apart from sailing on the Natchez steamboat, down the Mississippi river, I also managed to fall 'arse-over-head' in the gutter here, which left me with a severely bruised arm for several days.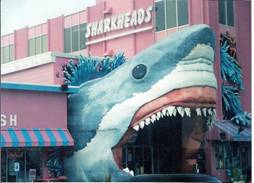 Moving on across the state of Alabama and into Florida, I headed south to Miami, where my three children flew in from the U.K. with their mother, to meet me the following day.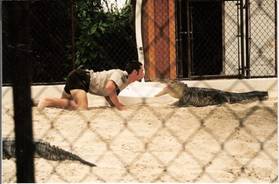 Now it was time to have a holiday and so for the next few days we relaxed by the hotel pool, swam in the Atlantic Ocean and went shopping in one of the local malls. We also went on an air-bus ride across the Everglades, where we met up with some juicy crocodiles.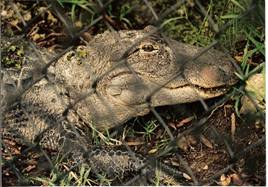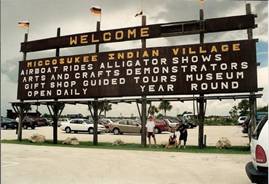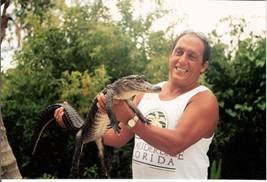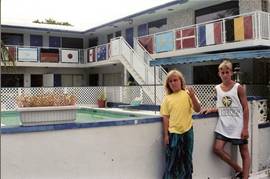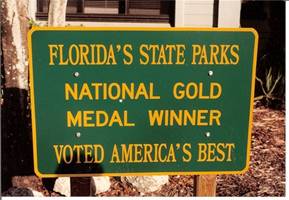 Liam, my eldest son and I then went ship-wreck and coral-reef diving together in Key Largo, while Carl and Hayley joined their mother on a trip down to Key West -and we then rounded the first week off with a day cruise over to the Bahamas.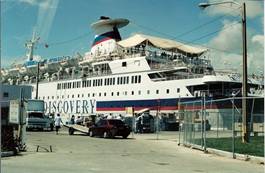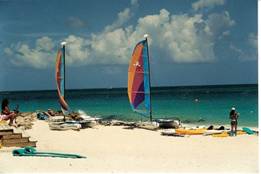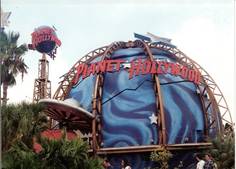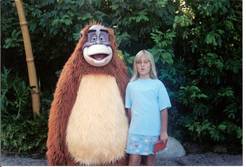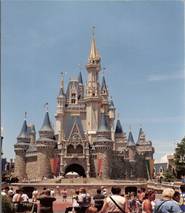 Now it was time for me to keep my 'sacred promise' to my children, as we all travelled north to Orlando, to spend a week in Disneyworld, visiting all four major theme parks; MGM Studios, Animal Kingdom, Magic Kingdom –and the Amazing Epcot Centre – and also two great water parks called 'Blizzard Beach' and 'Typhoon Lagoon'.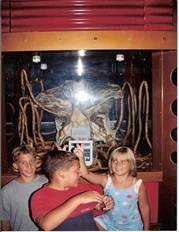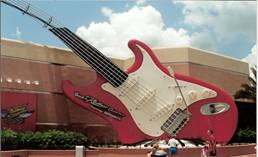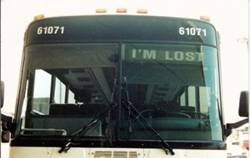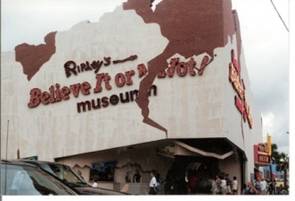 After a wonderful two week break, Caryl returned to the UK, while the four of us began making our way up the eastern shores of America, stopping firstly in Savannah, Georgia for one night, before moving on to Myrtle Beach in South Carolina, (for two nights this time) where we visited our very first "Ripley's Believe-it-or-not" museum –and we also got drowned-out in a torrential rainstorm.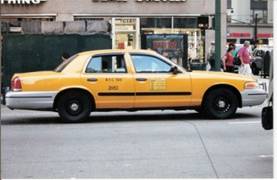 Moving away from the tornado belt, we continued on upwards through North Carolina and into Virginia, where we came to rest once more - for yet another two night stop-over.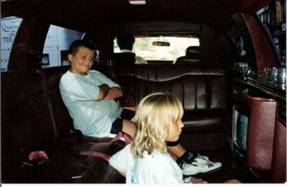 New York was our next destination and after going through Maryland, Delaware, New Jersey and Pennsylvania to get there, we were all ready for a three-night stop-over this time!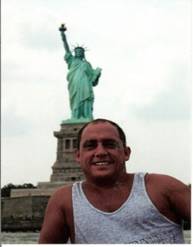 Like typical tourists we took the lifts and escalators to the top of the Empire State Building and to the observation platform of the World Trade Centre Twin Towers, and we also enjoyed a speedboat ride on 'The Beast' over to Ellis Island, to see the Statue of Liberty, while we were here. But the most memorable part was hiring a stretched limousine to take us to Spanish Harlem, where we swam in the pool at the northern end of Central Park.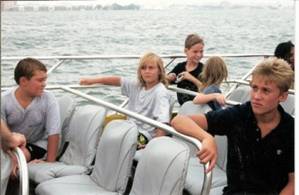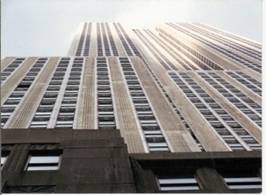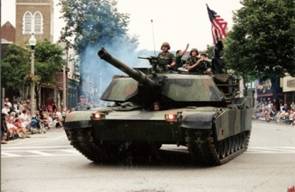 Moving on up, we rode the Greyhound Bus through Connecticut, Rhode Island, Massachusetts and New Hampshire, before reaching Maine, our most northern state on the eastern coast – and the half-way mark of the journey.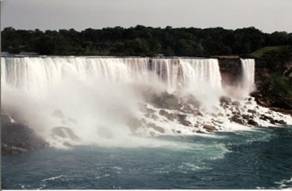 From here it was across to Vermont for a wonderful celebratory parade, then on to Buffalo, where we crossed the border into Canada for a memorable day at the Falls of Niagara.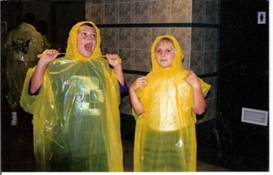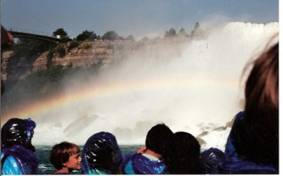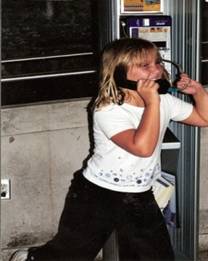 An ecstatic little girl jokes to her mum: "I'm staying on the bus with daddy –forever"– before being devastated by the loss of her bag of Disney souvenirs and presents, after we left them on the bus in Ohio!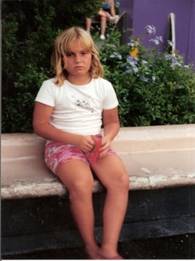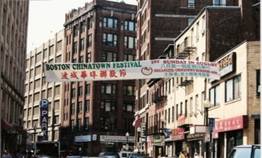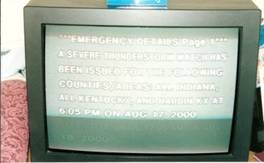 When our Greyhound bus stopped in Boston Massachusetts for a short break, the kids and I popped into China-Town – to buy a lunch-pack from McDonalds!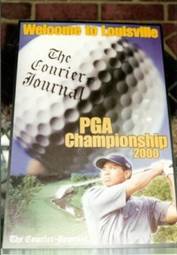 Moving swiftly west, we crossed into Ohio, before dropping down into West Virginia and across into Kentucky, where I came face to face with the world's biggest 'bat'!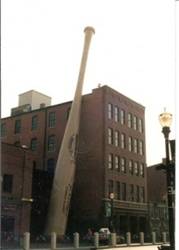 Unbeknown to us when we arrived, but Tiger Woods and his entourage were actually staying in a hotel just around the corner from us in the centre of Louisville, Kentucky!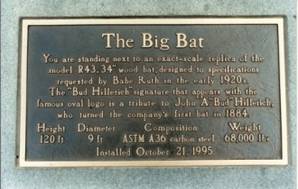 Upwards again –only to Gary in Indiana this time, which is apparently known as 'the murder capital of the world', where we had dodgy dealings with a drug dealer – and I nearly lost everything that we owned!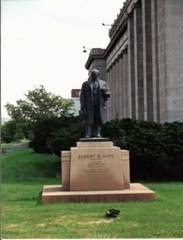 After a night in Chicago, we travelled backwards into Michigan for a night, then forwards again through Illinois and Wisconsin, before finally coming to rest in Minneapolis, Minnesota. From here it was due west to Fargo, North Dakota for a night, then southwards through South Dakota, into Sioux City, Iowa for another well-earned rest.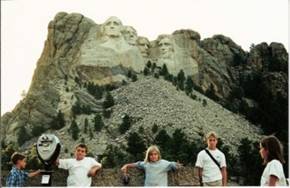 A quick taxi-ride into Nebraska, then it was north-west all the way to Rapid City, where the children and I were enthralled by two phenomenal monuments; the first one at Mount Rushmore and the second at the Crazy Horse Memorial in the Black Hills of Dakota.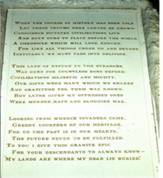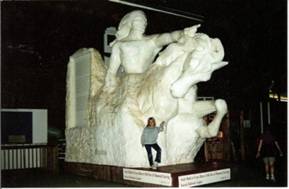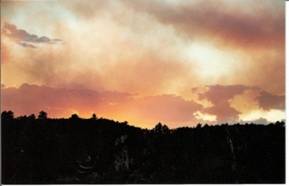 Wyoming was next on our list, followed by Montana, as we passed through the million-acre fires – and also met the most wonderful family, who kindly put us up for the night.                       
    The Black Hills of Dakota –lit-up with crimson skies from forest fires in the distance.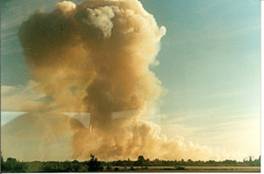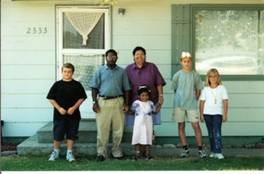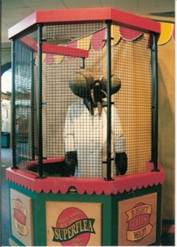 With Idaho covered in no time at all, the four of us rested-up for two nights in Seattle, in Washington, where, after climbing to the top of the Space Needle –we then rode even more roller coasters and log flumes for pleasure.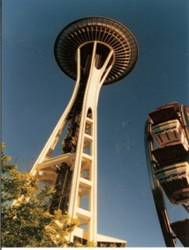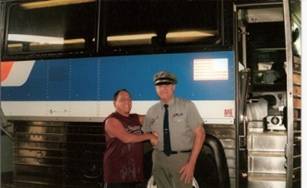 At Portland in Oregon, I celebrated touching-down in my 48th state, and then it was one last stop-over in Sacramento, followed by a five-hundred mile dash to Los Angeles, to catch our plane back to the U.K. My twelve-thousand mile journey was now at an end.