Asia - Me & My Girl
Cardiff to Singapore – a 20,000Km (12,000 mile) overland journey incorporating the countries of Wales, England, France, Belgium, Germany, Poland, Belarus, Russia, (Siberia) Mongolia, China, Hong Kong, Vietnam, Cambodia, Thailand, Malaysia and Singapore –in that precise order.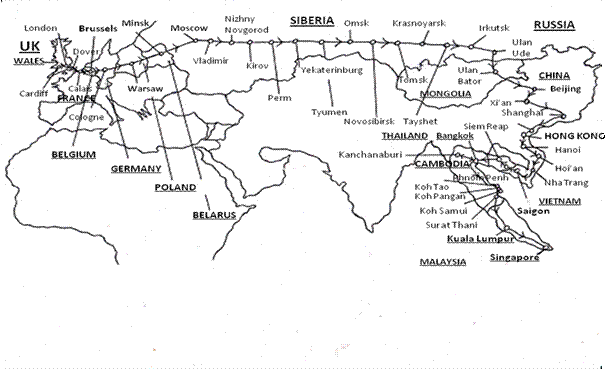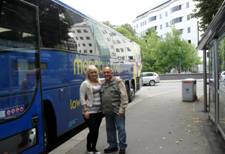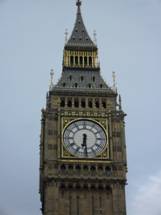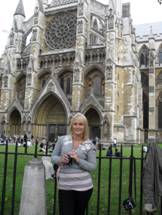 'Asia –me and my girl' is the first part of a two-part journey, which my daughter, Hayley and I undertook between 10th August and 1st December 2011. The second half of this voyage of discovery is told in a follow-up book entitled 'Africa and India –me and the kids', which earned its title simply because my two sons, Liam and Carl (along with Hayley's boyfriend, Craig) decided to join Hayley and I in Goa in India for a 10-day holiday halfway through the trip.

Setting-up such a mammoth expedition was a bureaucratic nightmare in the beginning, which included sending both of our passports to London for a total of '6' weeks, as they did the rounds to the Russian, Mongolian, Belarusian, Chinese, Vietnamese and Indian embassies (for individual visas), before finally being returned to us -less than 72 hours before Hayley and I were due to set-off on this extraordinary adventure. For the last two months my daughter and I had been frequenting various camping outlets, buying such things as sleeping bags, (complete with liners), mosquito nets, bum-bags, Poncho's and transporter bags, along with a host of miscellaneous items, such as Insect repellent and bite and sting soothing sprays, various travel plug adaptors –and a whole herd of spare batteries and chargers for the various electrical items that we would also be carrying with us.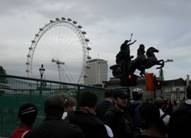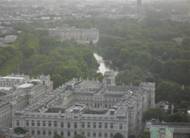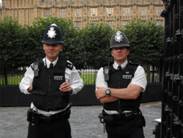 This included a notebook lap-top, an Amazon Kindle, a compact video camera, 2 digital cameras, 2 mobile phones, an MP4 player –and a dongle! Armed with a wardrobe of specialist clothing, such as trousers with detachable leg-pieces, jackets with more pockets and pouches than a business-mans' wallet and mountain boots that we could literally walk to the ends of the earth with, Hayley and I began filling our brand-new rucksacks with everything we could possibly need for a journey that would take us halfway around the world. While all of the above was going on Hayley and I also had to have several vaccinations for the forthcoming trip, which included Hepatitis 'A', Hepatitis 'B', Tetanus, Diphtheria, Polio, Meningitis, rabies, Yellow Fever and typhoid. (Hepatitis 'B' and Rabies requiring no less than '3' jabs of each, before the treatment was finally completed).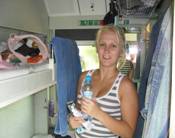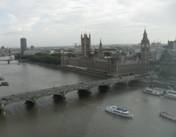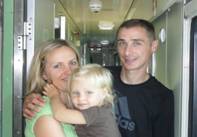 Hayley and I also took a total of '300' malaria tablets with us, which we would administer on a daily basis. To top all of this preventative medicine the day before we left I was diagnosed with extremely high blood pressure and so I also took two months supply of Ramipril (blood-pressure) tablets with me –which would have to be replenished by the time we got to Malaysia or Singapore!

Insurance to cover the pair of us for up to '6' months was the last item on our agenda and thanks to us both having decent bank accounts with Lloyds TSB the cost of the additional premiums for both policies was relatively minimal. The only journeys of the whole trip which Hayley and I had booked in advance was the 'Mega-bus' from Cardiff Station to Victoria Station in London, along with the train connections from London to Brussels, Brussels to Cologne, Cologne to Moscow and Moscow to Beijing.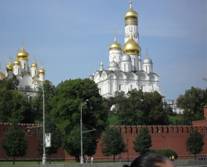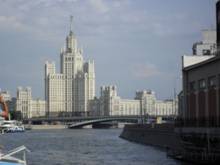 We had also pre-booked a one-night stop-over in the Wellington Hotel in London and a 3-night stay at the Cosmos Hotel in Moscow. At 2pm on Wednesday 10th August 2011 the wheels of the journey were set in motion, as Hayley and I set-off on our special trip together -a father and daughter who were determined to make-up for lost time, after being separated for over 18 years, since my divorce from her mother back in 1993. Walking around the streets of London and enjoying many of its famous sights, such as the Houses of Parliament, Big Ben and Westminster Abbey, was truly wonderful –and visiting the London Aquarium was a great experience –but going full circle on the London Eye, I must say, was something else.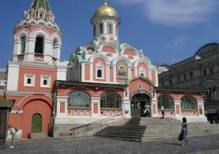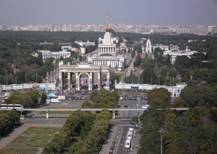 However, going under the English Channel through the Euro-Tunnel; this unbelievable man-made Wonder of the World was a bit of an anti-climax, I must confess, as everything went so smoothly that one would never know that they had just travelled under a billion gallons of water! Apart from one or two small delays (and temporarily losing our train tickets) the journey from Brussels to Moscow was relatively uneventful and so 48 hours after leaving the capital city of England, Hayley and I now found ourselves entering the capital city of Russia. Day trips to Red Square, Lenin's Tomb and St. Basils Cathedral, along with 2 wonderful boat cruises on the Moscow River and a couple of visits to a nearby fair-ground were in order over the next three days, before setting-off on one of the biggest railway journeys in the world.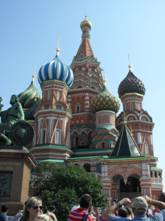 Sharing our cabin with two ladies in their 20's was ideal company for Hayley –and this also gave me the time I needed to get on with my work -in between hours-on-end of sight-seeing –and more card sessions than the pair of us had ever had in our lives before!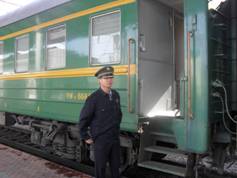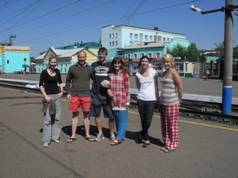 After 5 days travelling across Siberia, with numerous stops along the way -and after circling around the outskirts of Lake Baikal –the largest freshwater lake in the world, our train finally pulled-in to Ulan Bataar, where our dining carriage was changed-over from Russian to Mongolian cuisine (although within 24 hours the carriage would be changed once again, only this time to serve Chinese food!)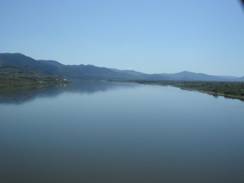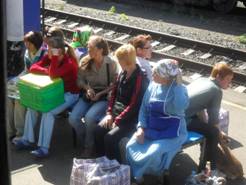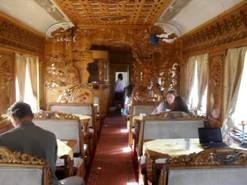 Unfortunately our arrival in Beijing was seriously marred after being forcibly ripped-off for the equivalent of £58 (in Yuen) for a taxi-ride to a hotel -which was less than half a kilometre from the railway station!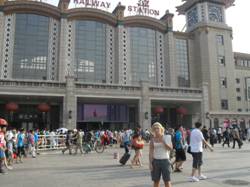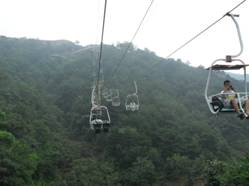 However, the rest of our 6 days in Beijing were wonderful, as Hayley and I enjoyed the delights of taking a cable-car-type chair lift over the Great Wall of China –before tobogganing down the other side, paying a visit to the giant panda's at Beijing zoo, before popping into the Beijing Aquarium, having excursions to the Summer Palace, the Ming Tombs, a Chinese Tea House, The Old Railway Museum Quarter, various Jade, silk and pearl factories, The Forbidden City, The Temple of Heaven, Tiananmen Square, –and even a foot-massage parlour! (Hayley and I also treated ourselves to a Kung-fu extravaganza evening –with real Shaolin monks –amazing!)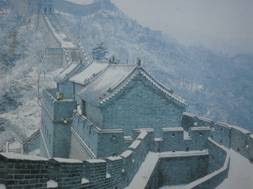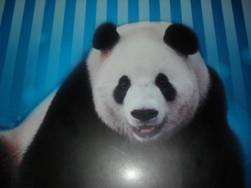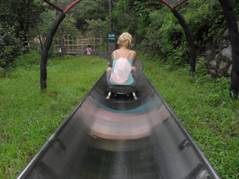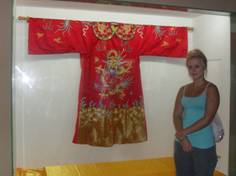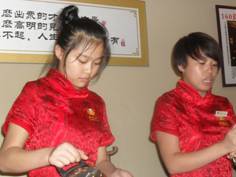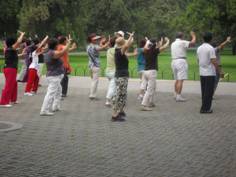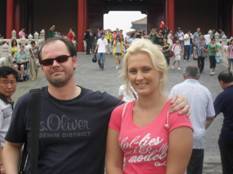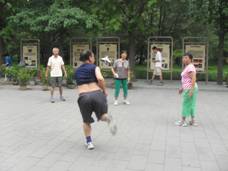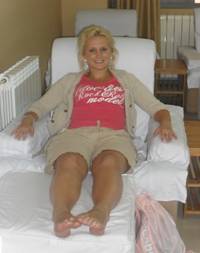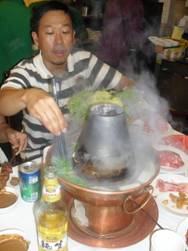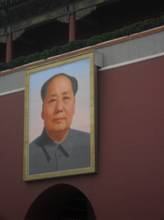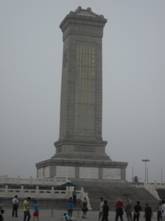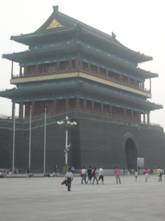 From Beijing Hayley and I travelled in a south-westerly direction to the city of Xi'an, where after cycling the Great City Wall, we took an excursion to a Chinese furniture factory, before visiting a 6,000 year-old village –and then the site of the amazing Terracotta Warriors, where we had our photos taken with the farmer who had actually discovered them!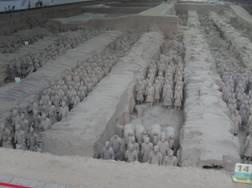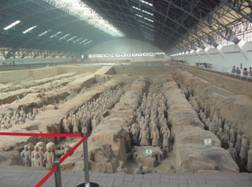 XI'AN and SHANGHAI
Shanghai was next on the agenda, where Hayley and I visited the French Concession, had a walking tour around the Bund, took an elevator to the top of the World Trade Centre, paid a visit to the local Pearl and jade factories (again) –and set sail on a boat around the little village which is known as 'Shanghai Venice' (simply because every building is surrounded by water). To round-off our short stay Hayley and I also took a Sunset Cruise on a gigantic (and very elegant) river-boat along the Shanghai River.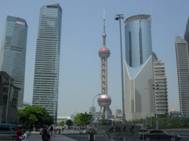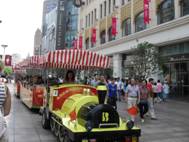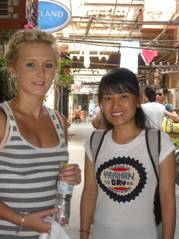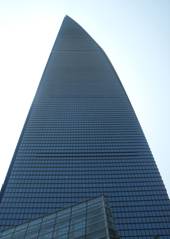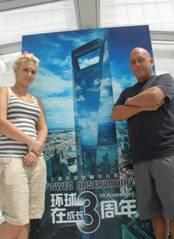 HONG KONG
After yet another overnight train journey Hayley and I spent our last night in China, in a place called Shen Jhen, before crossing-over the border and taking the metro train and a taxi into down-town Hong Kong. After a relaxing afternoon on the beach at Repulse Bay, Hayley and I joined some friends we had met on the train for a night on the town –where I was introduced to the seedy bars and ladies of the night, who are synonymous with this part of the world!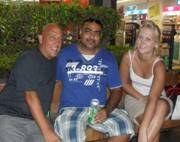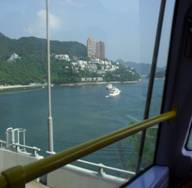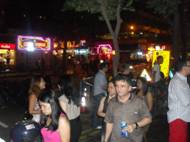 HANOI - VIETNAM
From Hong Kong Hayley and I crossed yet another border, before reaching the city of Hanoi in Vietnam, where we took a memorable Day trip to Ha'long Bay, which included a fabulous lunch on board a galley ship, an amazing hour of Kayaking in the most picturesque of bays -and an unforgettable visit to an underground labyrinth of spectacular caverns and caves.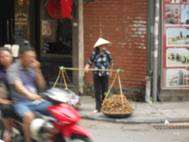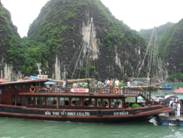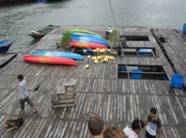 HOI'AN - VIETNAM
Unfortunately halfway through the trip to Hoi'an Hayley lost her beloved I-pod, after changing busses for the second half of the journey! In Hoi'an Hayley and I were given a push-bike each, as part of our hotel booking –and we also hired a scooter to ride around the bay and the town area. The pair of us also managed to get drowned-out in a torrential downpour!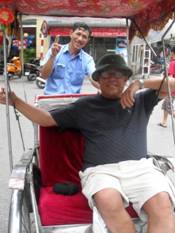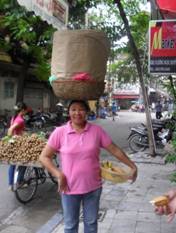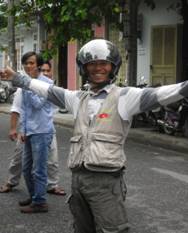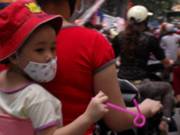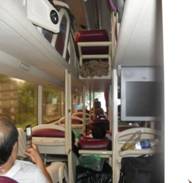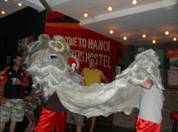 NHA TRANG - VIETNAM
From Hoi'an we moved further-on down the coast to the town of Nha Trang, where apart from hiring another scooter, to ride around the local area, we also took a cable-car across to a small island which housed the 'Vinpearl Amusement Park', went on a four-island excursion tour (which included going on a dive, where Hayley had her first scuba-diving lesson) -and I managed to get a severe case of sunburn on my bald head!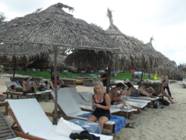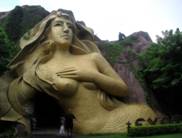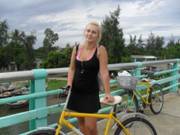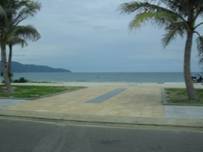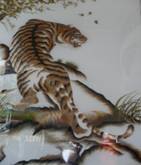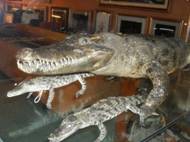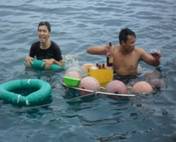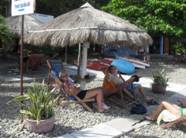 SAIGON – VIETNAM
Our final port of call was Vietnam's capital city, Saigon (also known as Hoi Chi Min City), where Hayley and I visited the War Museum, before having an all-over body massage -and I ended-up paying £250 for a new bridge, after one of my teeth snapped in half at one of the local steak restaurants!

The beauty of Vietnam and the friendliness of the Vietnamese people was sadly over-shadowed by the horrors of the Vietnam War, the aftermath of which left Hayley and I completely stunned after we visited the Vietnamese War Museum and read the unbelievable statistics about this Far Eastern Holocaust.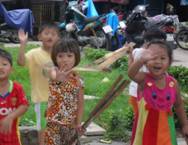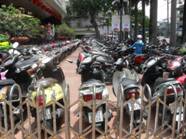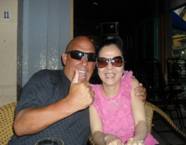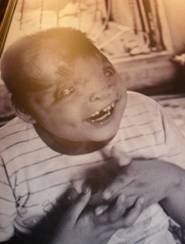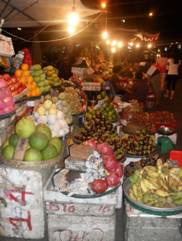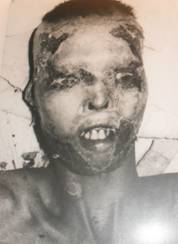 PHNOM PENH - CAMBODIA
Our next border-crossing took us into Cambodia and the capital city of Phnom Penh, where Hayley and I visited the notorious 'Killing Fields', the S-21 Prison Camp and the Cambodian War Museum, before moving-on up north to take a ride on an African elephant and pay a visit to Angkor Wat -the world's biggest Temple.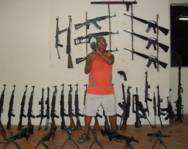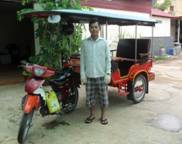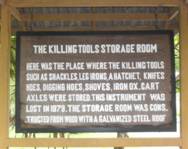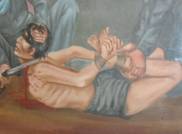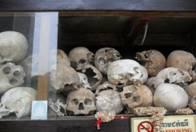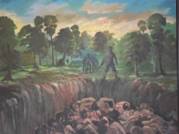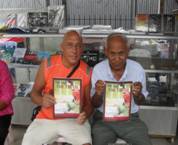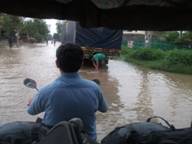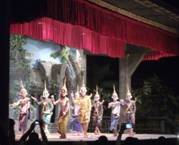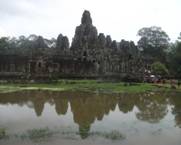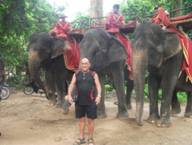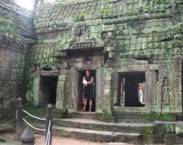 THAILAND
Crossing the border into Thailand was certainly a memorable experience, as apart from getting drenched in a horrendous thunder-storm we also passed a sign telling all visitors that anyone caught in possession of drugs would result in the 'Death Penalty!' After enjoying a days' shopping on the Khoasan Road and a night out in Bangkok, Hayley and I set off on a four-day excursion to the town of Kanchanaburi, (which is near to the Burmese border), where we visited the War Cemetery, the War Museum and the War Memorial site, before crossing the Bridge on the River Kwai, riding a train along the 'Death Railway' (for nearly 2 hours) and walking the length of 'Hellfire Pass'.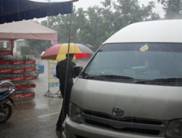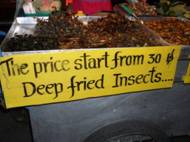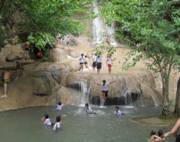 Over the next 3 days Hayley and I would visit the amazing 7-tier Erewan Waterfall, feed leopard cubs with bottles of milk, bathe elephants in the river, before riding them into the jungle –and walk with tigers at the amazing 'Tiger Temple'. We then rounded-off our 4-day jaunt by gently drifting down the Kwai River on bamboo rafts.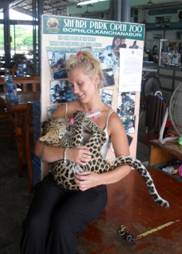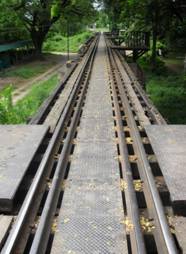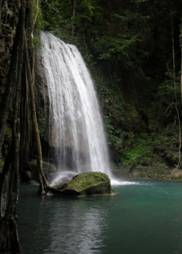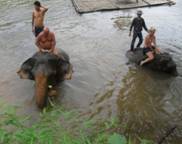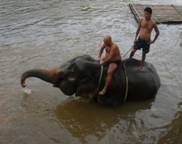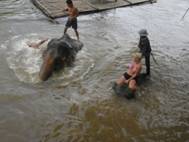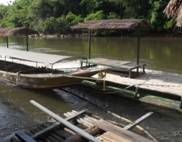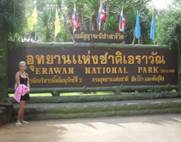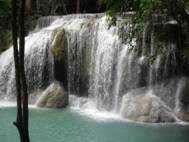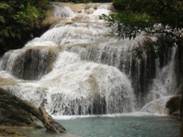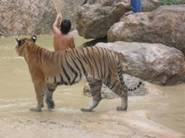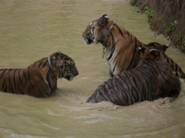 After ending up in the dentist chair again –with a broken filling this time, Hayley and I pushed on south to the island of Koh Tao, where, after 4-days training Hayley passed her P.A.D.I. 'open-water' scuba-diving course. From here we ferried firstly to the paradise island of Koh Pangan and then on to the somewhat larger island of Koh Samui, where we once again used scooters to circumnavigate these tropical havens of heavenly beauty.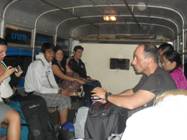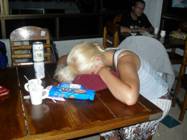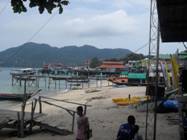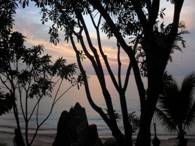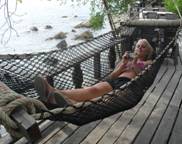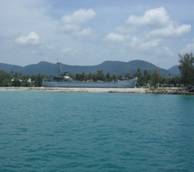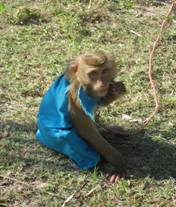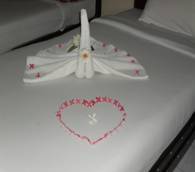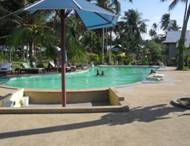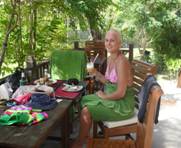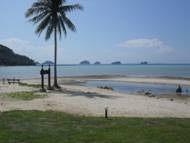 From Thailand we crossed the border into Malaysia –but only after being fined £10 each –because both of our visas had expired by '1' day! Coming to a halt in Kuala Lumpur, Hayley and I spent 3 nights in a very sumptuous timeshare apartment -after being accosted by a lady from Brunei at the airport taxi rank! Apart from doing a hop-on, hop-off bus tour around this wonderful city, which included paying a visit to the amazing Petronas Twin Towers, we also took an escalator to the observation platform at the top of the KL Tower.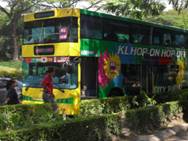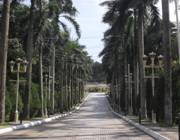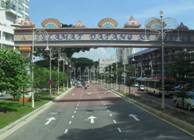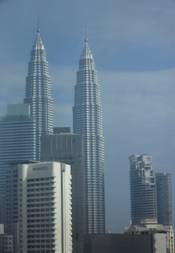 The final run of our 20,000km overland journey took Hayley and I to the mystical city of Singapore, where once-again we enjoyed the delights of a 'hop-on, hop-off' bus tour, before taking a wonderful cruise down the Singapore River –and ending-up with a spell-binding night-time safari and an amazing display of fire-eating.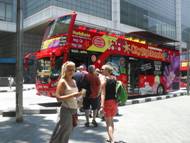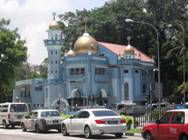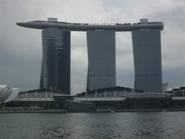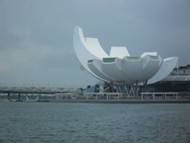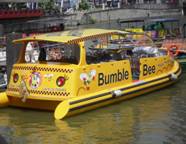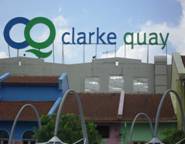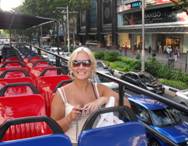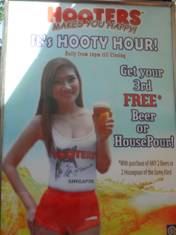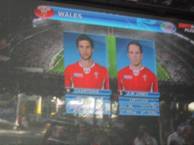 From Singapore Hayley and I flew firstly to Mumbai and then on to Goa in India -where the second-half of our voyage of discovery was about to begin!